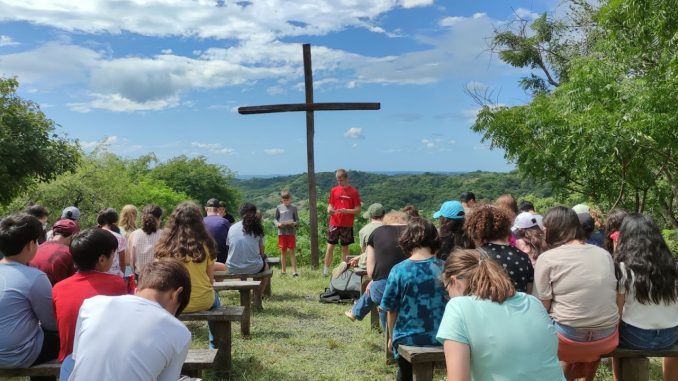 On Saturday, December 3, students from 6th-8th grade got to travel to Ruby Ranch to celebrate the last Thrive of 2022 and the birth of Christ Jesus. The day started great- buses were there on time, kids were excited, and leaders were, mostly, on time. Although we were down four of our nine Thrive leaders, the buses departed for Ruby Ranch as planned. As soon as we left the NCAI grounds, music blasted through student's speakers. Between Mr. Barker's narration of the Argentina-Australia game and Christmas carols sang heartily but dreadfully out of tune by the enthusiastic 8th graders that rode with me, we were ready to conquer the world.
On the bus to Ruby Ranch
As we broke off from the main Carretera Vieja a Leon highway and onto a dirt road, kids were getting impatient. Fifteen minutes into the dirt road, Drew Lang used the "Star" method. Every time a kid would ask how long until we got to Ruby Ranch, Drew would answer "Two more minutes!", just as Mr. Star had done with us at some point. This saved us from having to endure hundreds of more How long 'till we're there'?s.
Nicaraguan countryside is beautiful, but even beautiful can get tiring after more than an hour. Soon, the buses reached an adventurous obstacle. A small river caused by recent rains kept the 8th graders' heads on a swivel just enough to give the leaders, and the poor bus driver, a rest from their music.
Shortly after arriving at Ruby Ranch, our team started the ten minute hike up the hill. There, the kids and us sang more Christmas carols. Thrive leaders acted out a small skit of Christ's birth with the help of some of our kids. Nathan Holtrop's southern accent got everyone laughing, as did Micah Bachert's part as baby Jesus. With joy and laughter, our kids began their descent down the hill.
After a couple hours of kids running around enjoying a giant water slide, a horse, a pony, and lots of snacks, the morning turned into lunch. And with lunch, a White Elephant gift exchange. For some of our kids, this was their first time playing White Elephant. But with some patience, our more than fifty students got nice (or not so nice) gifts to enjoy on the way back. 
Tired, full, and ready for home, the Thrive leaders were between sleeping and keeping the children from jumping out the bus, hyped up as they were from the candy we had just given them. Overall, it was a great day. Student leaders got to exercise patience, mentor little kids, and show Christ to every single one of our Thrivers. Meanwhile, the kids got to enjoy time together and create memories that will make them grin a couple years from now. Teachers, well, they got to be teachers.